Cathedral Square Launches Matching Capital Campaign for Memory Care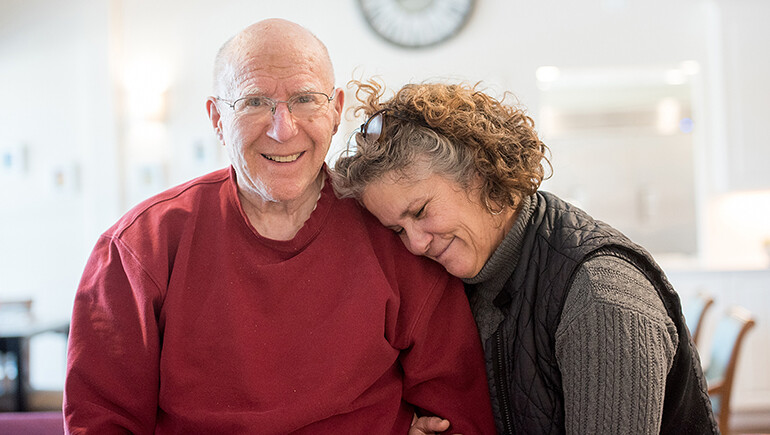 With generous support from the families of Holly & Bob Miller and Lois & J. Warren ("Mac") McClure, Cathedral Square has launched a $1 million capital campaign to ensure the future of Memory Care at Allen Brook, a Williston-based residence for very low-income Vermonters on Medicaid.
The two families, known for their philanthropic support of worthy Vermont causes for decades, are matching every donation to the campaign dollar for dollar up to $500,000.
Several generous gifts already have been received and matched, including $50,000 from the M&T Bank Foundation and $5,000 from the Fountain Fund.
"We cannot overstate how tremendously grateful we are to the McClure and Miller families and to these initial donors for their support of Memory Care at Allen Brook and their belief in Cathedral Square," said CEO Kim Fitzgerald. "They understand how vitally important it is to provide equal access to quality dementia care and services for those without means."
The nonprofit Memory Care at Allen Brook is the only truly affordable memory-care residence in Vermont, as it accepts people on Medicaid and with Section 8 rental subsidy at the time of admission. Private residential care in Vermont for people with Alzheimer's and other forms of dementia typically costs $10,000 a month or more.
Cathedral Square created Allen Brook in late 2017 after raising $1 million to help buy the former Vermont Respite House and transform it into the model memory-care community it is today. In order to complete the purchase, the nonprofit housing provider obtained a $1 million loan that Cathedral Square had planned to pay off starting in 2020, but the pandemic intervened.
"Unfortunately, the extraordinary costs we have incurred due to the pandemic, combined with the skyrocketing
cost of goods and services during this time of severe workforce shortages and record-breaking inflation, have increased our expenses to the point that we no longer can carry this debt and continue operating Memory Care at Allen Brook," Fitzgerald explained. "We need to pay off the debt so we can apply those funds to our operating budget and keep Allen Brook open for the long term."
Through a fund at the Vermont Community Foundation, the philanthropic work of Mac and Lois McClure continues to support causes the couple championed before Mr. McClure's passing from complications of Alzheimer's in 2004. Their daughter Barbara relates that Lois is grateful that the building that served as the original Respite House, which the McClure and Miller families helped to develop in the 1980s, will continue to serve Vermonters in this new way, providing specialized and accessible services to low-income individuals in need of memory care.
"This challenge gift in partnership with the Miller family feels 'full-circle' in many ways," she said. "My father viewed matching gifts as an opportunity to encourage others to give."
Miller family spokesperson and Cathedral Square board member Stephanie Taylor knows firsthand the emotional and financial havoc that dementia wreaks on families and understands the importance of securing the future of Memory Care at Allen Brook.
"My stepmother struggles with dementia, and I know what it takes to ensure that she is safe and has joy in her life," she said. "It is vitally important that Allen Brook continue, so that people who otherwise would have no options have one – and a great one at that."
Memory Care at Allen Brook is known for its cozy, homelike atmosphere and its Best Friends™ approach to memory care. Staff and residents interact as friends, and residents have control over their day-to-day lives. It is one of Cathedral Square's two assisted-living communities in addition to 25 service-enriched, independent living communities for older adults and people with unique needs.
Taylor added that her family is honored to carry on the legacy of their late father, Bobby Miller, in supporting causes that are meaningful to them. "I urge everyone who knew and loved my father to follow his example and donate to the Campaign for Memory Care at Allen Brook," she said. "It is essential that this remarkable community remains viable so it can continue providing the very best of care to those who otherwise might receive the worst."
Cathedral Square hopes to meet the $1 million goal for the Campaign for Memory Care at Allen Brook by the end of the year. For more information and to contribute, visit cathedralsquare.org/memory-care-campaign.