Cathedral Square Meets $1 Million Capital Campaign Fundraising Goal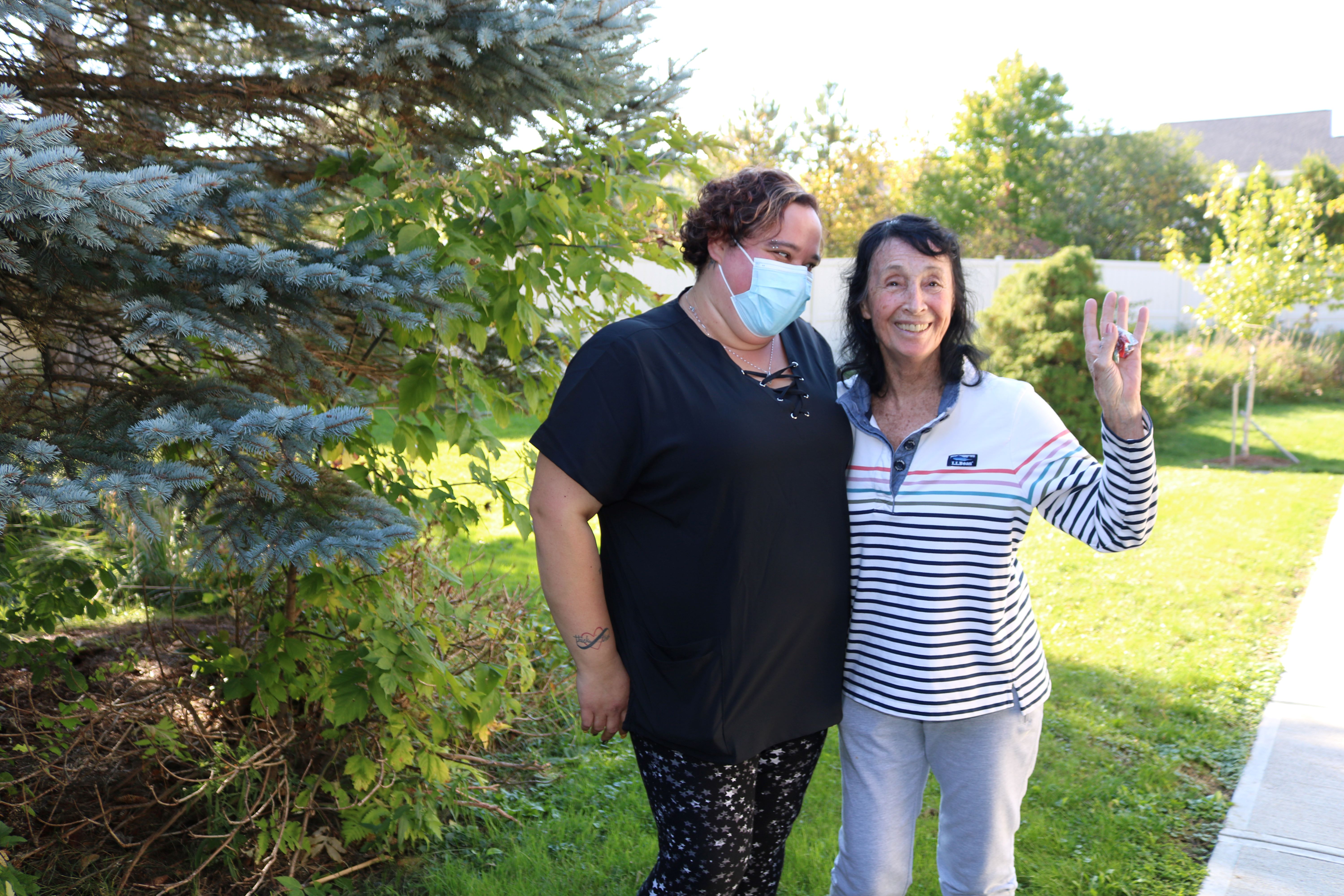 Bethany LeBlanc, a licensed nursing assistant at Allen Brook, spends time outside with her friend and resident Janet.
MEMORY CARE AT ALLEN BROOK RECEIVES $250,000 GIFT FROM POMERLEAU FAMILY FOUNDATION

SOUTH BURLINGTON, VT – Cathedral Square announced that they met their $1 million fundraising goal for Memory Care at Allen Brook, their Williston-based residence for very low-income Vermonters on Medicaid and the only truly affordable memory-care residence in the state. The capital campaign was created last October to pay off the remaining debt on the property, a need identified when the pandemic caused unprecedented increases to their operating budget. Now that the debt is paid off, Allen Brook will remain sustainable into the future.

"We had an ambitious goal, and our supporters rose to the occasion," shared Cathedral Square CEO Kim Fitzgerald. "I am deeply moved by the generosity of our donors, all of whom have demonstrated a strong commitment to providing quality, affordable dementia care to those without means. This has truly been a community effort."
The campaign launched thanks to support from the families of Holly & Bob Miller and Lois & J. Warren "Mac" McClure. The two families pledged to match every donation to the campaign, dollar for dollar, up to $500,000. Following this pledge, the campaign received generous matched gifts from the Hoehl Family Foundation, the Amy E. Tarrant Foundation, the M&T Charitable Foundation, Nancy Wright and Steve Lidle, NFP Property & Casualty Services, Inc., and the Fountain Fund.
The Pomerleau Family Foundation capped off the campaign with a generous $250,000 gift, allowing Cathedral Square to keep Allen Brook open for the long term. "The Pomerleau Family Foundation is delighted to support Memory Care at Allen Brook. We have experienced the impact and hardships of dementia in our family, and are grateful for this opportunity to support equal access to quality memory care," said Ernie Pomerleau. "Cathedral Square has become a leader in providing quality dementia care to those without means in Vermont, and we are proud to help ensure this important work will continue. It is a critical health need in our aging state that unfortunately has become prohibitively expensive for so many."
The building itself also has special meaning to the McClure, Miller, and Pomerleau families, who were all actively engaged in creating the original Vermont Respite House in the same location before it later relocated to Colchester.
Memory Care at Allen Brook is known for its cozy, homelike atmosphere and its Best Friends™ approach to memory care. Staff and residents interact as friends, and residents have control over their day-to-day lives. It is one of Cathedral Square's two assisted-living communities in addition to 25 service-enriched, independent living communities for older adults and people with diverse needs.
Now that the capital campaign is complete, Cathedral Square will continue raising funds to support their incredible staff at Allen Brook and create a therapeutic garden for the grounds. "When the weather is beautiful and the sun is out, our friends love to go outside. It provides new stimulation and keeps the mind active," shared Colleen Lee, manager of Memory Care at Allen Brook. For more information about the campaign and to give a gift, please visit: cathedralsquare.org/memory-care-campaign.