Officials Join in Groundbreaking for Juniper House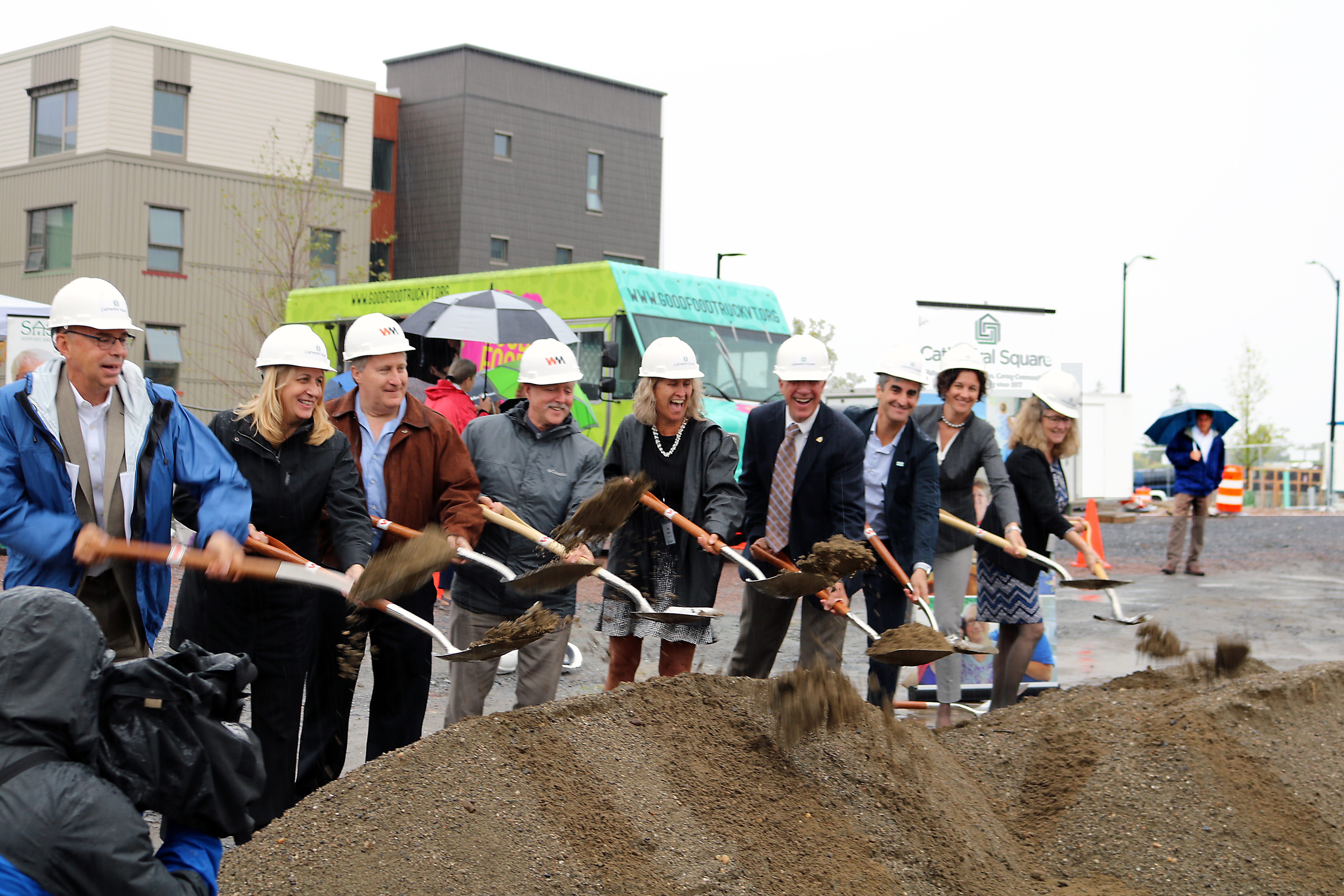 It was all smiles despite the rain on Thursday, Sept. 26, when Governor Phil Scott, Burlington Mayor Miro Weinberger, and housing and community-development officials kicked off construction of Juniper House, a new Cathedral Square affordable rental community in Burlington for older adults.
Juniper House will provide 70 one- and two-bedroom apartments for older adults at both affordable and market-rate rents in the Cambrian Rise development, which is taking shape off North Avenue in Burlington. Residents will have free access to Vermont's award-winning SASH® (Support and Services at Home) program, which improves participants' health, saves Medicare dollars and helps people remain living at home as they age.
The construction of Juniper House is in response to the severe and growing need for affordable housing for older Vermonters. The project is among the beneficiaries of the state's $37 million housing revenue bond proposed by Governor Scott and approved by the Vermont Legislature in 2017. An opening date of March 2021 is anticipated.
"We have been working on Juniper House for over five years now, so we are very pleased today to celebrate the construction of 70 new affordable homes being built at this site, said Cathedral Square CEO Kim Fitzgerald. "We celebrate that 70 households will have the benefit of SASH – Support and Services at Home – a program proved to have positive health outcomes. We celebrate that 70 households will have access to transportation, to community, to a sense of belonging. And we celebrate that this building will be permanently affordable, ensuring that future generations of older adults will have housing security."
In addition to Governor Scott and Mayor Weinberger, speakers included Gus Seelig, executive director of the Vermont Housing & Conservation Board; Maura Collins, executive director of the Vermont Housing Finance Agency (VHFA); and Art Casavant, vice president and Community Reinvestment Act officer of People's United Bank. Representatives of Vermont's entire Congressional delegation were among those attending the event.
Juniper House marks the 25th housing community for older adults and people with disabilities developed in Chittenden and Franklin counties by Cathedral Square since its founding in 1977. Cathedral Square created the SASH program and piloted it in Burlington in 2009. It now operates throughout the state and serves more than 5,000 Vermonters.