Kelley's Field II Groundbreaking Celebration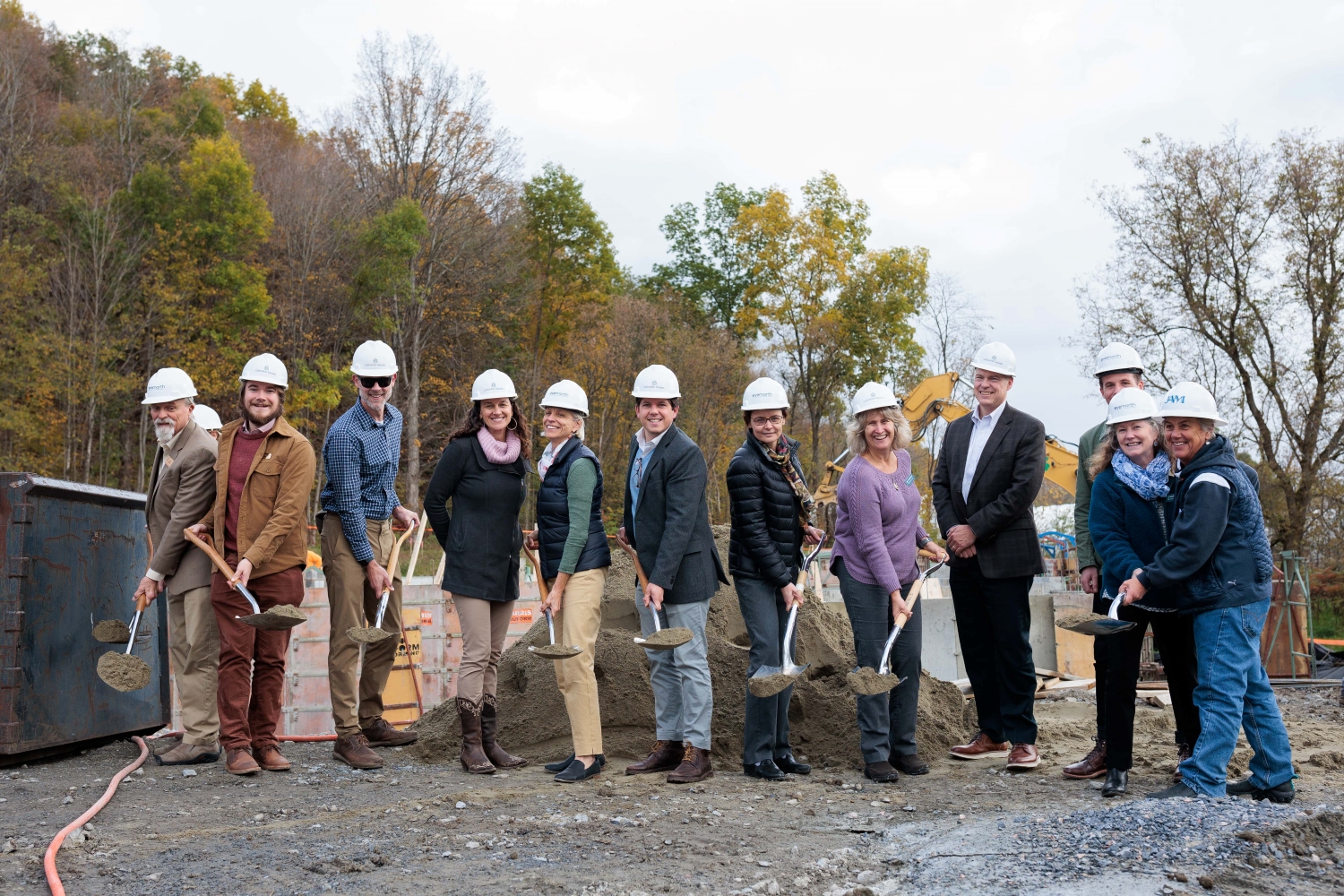 Cathedral Square CEO Kim Fitzgerald and Director of Real Estate Development Cindy Reid celebrate the groundbreaking of Kelley's Field II with partners from Evernorth, funders, state officials, and community supporters. Photo by Ben DeFlorio.

Construction under way in Hinesburg on 24 new apartments for older adults
Kelley's Field II will offer a mix of affordable and market rate rents
HINESBURG, VT -- Cathedral Square and Evernorth announced today that construction has begun on Kelley's Field II, 24 new energy-efficient affordable apartments for adults 55 and older in Hinesburg.
Situated next to Kelley's Field I, Kelley's Field II is the second phase in the larger Kelley's Field development project and will offer 24 energy-efficient apartments - 23 one-bedrooms and 1 two-bedroom apartment with a mix of affordable and market-rate rents.
"Investing in affordable housing isn't just about bricks and mortar; it's about creating homes where residents can thrive and feel part of a community," said Cindy Reid, Cathedral Square's Director of Real Estate Development. "Everyone deserves a safe, stable, and affordable place to call home."
Amenities at Kelley's Field II include a lounge, community room with kitchen, telehealth room, activity room, pavilion, garden beds, and a walking loop. All apartments are designed with ADA accessibility in mind. Kelley's Field II offers SASH® (Support and Services at Home), which includes an onsite care coordinator and part-time wellness nurse, at no cost to residents.
Additionally, the building is being constructed to Efficiency Vermont's "High Performance" standard for energy efficiency, and rents include heat, air conditioning, electricity, hot water, and laundry.
Co-owners and co-developers Cathedral Square and Evernorth worked with Duncan Wisniewski Architects to design the building and J.A. Morrissey is the construction manager.
"The town of Hinesburg has been incredibly supportive of our efforts," said Kathy Beyer, Evernorth's Senior Vice President for Real Estate Development. "And the location of Kelley Field II in Hinesburg's village center is also exceptional. We are thrilled to be building new homes in such a welcoming community."
Over $11 million in funding was raised from federal, state, local and private sources to finance the total development costs. Vermont Housing & Conservation Board is providing over $4.7M in federal ARPA (American Rescue Plan Act) funding. A significant piece of the funding came from the Low Income Housing Tax Credit allocated by the Vermont Housing Finance Agency, with Housing New England Fund V providing the tax credit equity. Vermont Housing Finance Agency also allocated $360,000 in VT State tax credits and is providing construction financing. Vermont State Housing Authority is providing rental assistance for eight of the apartments. Mascoma Bank is the permanent lender and is also the sponsor for the AHP funds. Other sources of funds were provided by the Vermont Community Development Program, the National Housing Trust Fund, FHLBB Affordable Housing Program, Efficiency Vermont, the Town of Hinesburg and many others.
Construction began in May 2023 and is expected to be complete by August 2024. If you'd like to learn more about this community, please contact us to be added to the inquiry list.