Residents, Officials Celebrate the Opening of Bayview Crossing in South Hero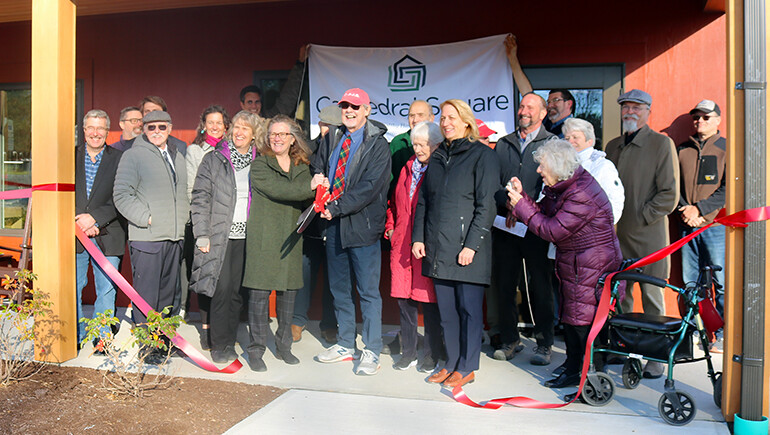 SOUTH HERO, VT — State and local officials, affordable housing advocates, and area residents gathered in South Hero Monday, Nov. 14, to celebrate the opening of Bayview Crossing, a new Cathedral Square community with 30 homes for older adults and new offices for the local nonprofit C.I.D.E.R. (Champlain Islanders Developing Essential Resources).
It is the first affordable housing in Grand Isle County in 17 years.
"We are so excited to welcome our new residents to this beautiful community," said Kim Fitzgerald, Cathedral Square CEO. "Countless community members pushed for over two decades to create a village center in this location, and they always saw housing as a critical part of it. Thanks to C.I.D.E.R. volunteers, visionaries, and community leaders, utilizing public and private investment, we now have a vibrant community here in South Hero."
In addition to Bayview Crossing, that vibrant community includes the adjacent Worthen Library, the Champlain Islands Community Health Center, South Hero Fire & Rescue, a dental office and preschool, Wally's Place Bagel & Deli, and a soon-to-open brew pub and restaurant. "Siting Bayview Crossing in a walkable location close to nearby goods and services was a priority from the start," Fitzgerald noted.
Speakers at the event included Vermont Senator Dick Mazza and Commissioner Josh Hanford of the Vermont Department of Housing & Community Development, both of whom noted the role that Bayview Crossing will play in the Islands' continued prosperity.
"This is a wonderful day, and we've been working a long time to get here," Mazza told the crowd.
Jordan Posner, executive director of C.I.D.E.R., shared that sentiment. "C.I.D.E.R. has worked toward this day for 30 years, and to see it come together is special," he said. "Our new space will allow the organization to remain rooted to its mission while keeping focused on those most in need." C.I.D.E.R. and local community members raised over $450,000 over just six months in 2019 to help fund both the housing and the organization's new office.
Other speakers at the event included longtime Islanders and new Bayview Crossing residents Sarah Robinson and Diane Hauser, who praised their new homes and the positive sense of community and belonging it nurtures.
Bayview Crossing offers 30 one- and two-bedroom apartments for Vermonters 55 and older at subsidized, tax-credit and market-rate rents. Rent includes heat, air conditioning, hot water, electricity, water and sewer, trash and recycling services, and free use of laundry facilities —all utilities except telephone and cable TV.
Offices for C.I.D.E.R., which provides transportation, meals, home-modification and other services for older residents on the Islands, were incorporated into the development, which had overwhelming support from local residents and town officials.
Bayview Crossing is a SASH® (Support and Services at Home) location, with a full-time SASH coordinator and part-time wellness nurse who plan and implement health and wellness programming, social activities, and one-on-one support as needed. Amenities in the two-story building include a spacious community room with kitchen, garden planters, gym, on-site laundry facilities, on-site parking (some covered) , an EV charger, air conditioning, secure building access, and an elevator. The two-story building exceeds Efficiency Vermont's "High-Performance Multifamily Building" standard.
Construction began in September 2021 and was completed in one year, with ReArch Company the construction manager and Weimann Lamphere the architects. All apartments were leased by the time move-ins began last month, and there are almost 100 households remaining on the wait list for an apartment.
Bayview Crossing was developed in response to the growing need for affordable housing for older Vermonters and the critical shortage of affordable housing in general, particularly in northwestern Vermont, where vacancy rates are below 1%. Funding was raised from federal, state, local and private sources, including the Vermont Housing & Conservation Board, the Vermont Housing Finance Agency and Vermont State Housing Authority. People's United, a Division of M&T Bank, provided construction financing and tax-credit equity. Funding from the Northern Border Regional Commission and the Vermont Community Development Program allowed the South Hero Fire District #4 to install 1,400 feet of new water line to support Bayview Crossing and other developments in the area.