Southwick & Zook Named UVM 2021 Outstanding Service-Learning Partners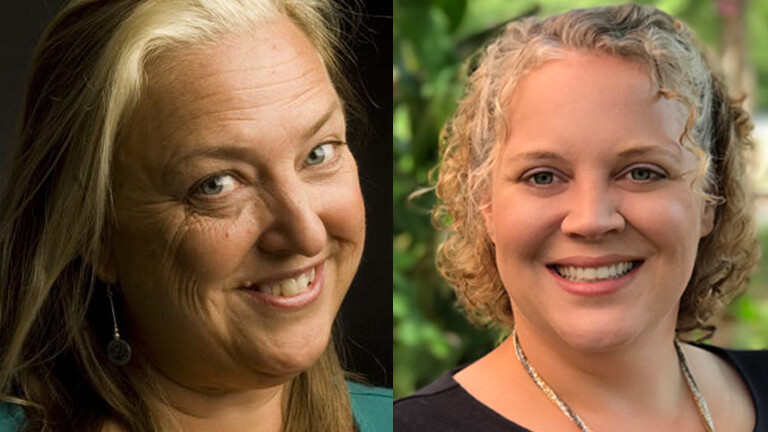 Statewide SASH (Support and Services at Home) Director Melissa Southwick and SASH Coordinator Syndi Zook have been named co-winners of the University of Vermont's "2021 Outstanding Service-Learning Community Partner Award, COVID edition." They both took UVM students under their wings to provide them with exceptional real-world experience by mentoring them as they worked with SASH participants and older adults The award recognizes "partners who went above and beyond to ensure that students were able to participate in service-learning experiences even during the pandemic."
Southwick assumed Vermont's top SASH leadership post in January 2021 after Molly Dugan stepped down to become Cathedral Square's first Director of Public Policy and Strategic Initiatives. Southwick had served as Assistant SASH Director since fall 2019. She had been a case manager at the Champlain Valley Agency on Aging (now Age Well) for 12 years before joining Cathedral Square in 2014 as statewide SASH Support Coordinator (subsequently retitled Operations & Quality Assurance Manager), working with SASH teams throughout Vermont to ensure consistent and meticulous adherence to the SASH model in both service delivery and data recording.
Zook came to Cathedral Square in 2018 with a broad range of experience working with older adults through the Visiting Nurses Association (now UVM Health Network Home Health & Hospice) and a long stint as director of the Champlain Senior Center. Immediately prior, she had served 13 years as executive director of the Lyric Theatre, Vermont's most prominent community-theatre organization. She serves as SASH coordinator at Thayer House, a Cathedral Square community in Burlington's New North End.
SASH is a nationally recognized, team-based program of care coordination for older adults and people with disabilities. Created and piloted by Cathedral Square in 2009, it operates from 140 affordable-housing communities throughout Vermont and serves up to 5,000 participants at any given time. The program is free to participants, with funding provided as part of Vermont's effort to reform health care by focusing on wellness and the social determinants of health, including housing. Cathedral Square administers the SASH program in Vermont.