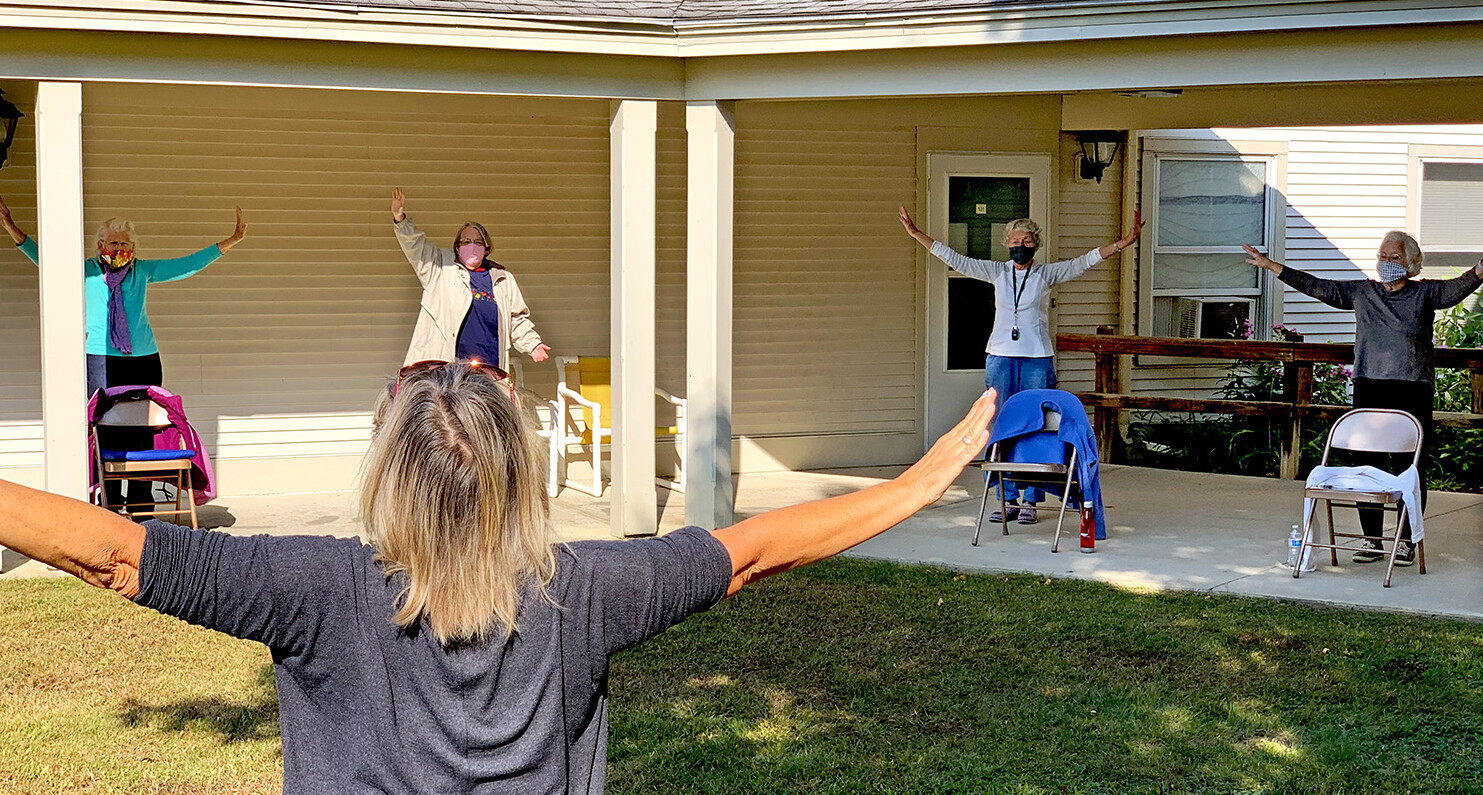 This is a running log of the steps we have taken and are taking at Cathedral Square to protect residents and staff from the coronavirus pandemic. We will continue posting updates here until such time as we can put these trying days behind us, breathe a sigh of relief, and enjoy each other's company – in person – once again.

March 10, 2022

Two years ago we received notice of the first positive COVID case in Vermont. No one could have imagined we would still be dealing with the consequences of this pandemic today. Thankfully we seem to be reaching a new phase, thanks in large part to the many people who followed the CDC guidelines and received their vaccination and booster shots.
Cathedral Square has always tried to follow the guidelines recommended by the Vermont Department of Health (VDH) and the Center for Disease Control (CDC), and with that in mind, we are rolling out the following policy for our independent living communities:
As of Monday, March 14, the wearing of masks in our independent living communities will be optional. Our staff will continue to wear masks around residents for the next few weeks in order to ensure extra protection from possible exposure, as we come in contact with a large number of people during the day. Individuals with complex health conditions or at high risk are still urged to wear a mask in public as outlined by the CDC and the Vermont Department of Health. We ask that everyone continues to be respectful of each person's choice to wear a mask or not under this new policy.
For the time being, there will be no Cathedral Square or SASH-organized food events. We will re-evaluate this as the case numbers come down. However, resident organized meetings with food are permitted.
We are excited to take this step into the direction of normalcy and hope case counts will continue in a downward direction. If we learn of positive cases in a community or the trend changes direction, we will revert back to mandatory masking.

Thank to everyone for bearing through all of these changes and protocols. We all have all done an amazing job navigating these difficult times. We're looking forward to seeing more smiles!
---
A recent segment of WCAX's "Across the Fence" featured former SASH Director Melissa Southwick, who shared the Herculean effort and critical role SASH played in keeping residents safe, engaged, and virus free.
---

September 14, 2021

As we have for the last year and a half, Cathedral Square continues to prioritize the safety and well-being of our staff and residents. As we continue to see higher numbers of cases of COVID-19 in our area, Cathedral Square's Emergency Response and Preparedness team has continued to meet and discuss the most current Vermont Department of Health and CDC guidance. In the last month the number of COVID cases has continued to grow and Vermont, like the rest of the country, has seen an increase in severe cases, hospitalizations and deaths, particularly for those who are unvaccinated. There are breakthrough cases occurring among vaccinated people and in long term care communities and we have been paying very close attention to how this could impact our communities. The good news is that the vaccine is doing what it's supposed to do and most breakthrough cases are mild, but people who have multiple health conditions and weaker immune systems are still at risk. Many of our residents fall into this category.
Due to the increase in severe cases, overburdened hospitals and deaths nationally, President Biden announced last Thursday that he has asked the U.S. Department of Labor to issue a rule that requires businesses with more than 100 employees to require vaccinations against the coronavirus or offer weekly testing for those who are not vaccinated. In light of the news, Cathedral Square wants to prepare in advance for this upcoming change in OSHA requirements.
Supervisors will be reaching out to their staff and collecting information on vaccinations. Employees who have been vaccinated will need to provide proof of vaccination and HR will retain all records. Collecting this information will not only allow Cathedral Square to understand and develop an appropriate weekly testing plan for those who are not vaccinated, but if given the opportunity, will also help us know when to schedule vaccine booster shot clinics within the recommended 6-8 month timeframe. Employees who have not yet been vaccinated and would like to discuss questions or concerns about whether to be vaccinated are encouraged to reach out to their supervisor or HR. Cathedral Square has been working closely with many community partners throughout the pandemic and has connected with a resource at UVM who is willing to provide information regarding the vaccine and answer direct questions regarding individual circumstances.
We are continuing to ask ALL staff to wear a mask (3-ply medical/surgical) inside our buildings regardless of whether you have been vaccinated or not. You may take your mask off if you are alone in your office or workspace. Long Term Care Communities will continue to wear masks and follow Assisted Living protocol.
Employees must continue to follow these prevention steps: Wash your hands regularly, stay home if you feel sick, and get tested if you have any symptoms or have been exposed to someone with COVID.
Employees who have been directly exposed to COVID-19 or develop COVID-like symptoms should reach out to their primary care provider and get PCR tested right away. Cathedral Square is fortunate to have rapid antigen tests available to test any staff who are returning to work after traveling or attending a gathering of over 25 people, especially if the gathering was indoors and without masking. These antigen tests have been used regularly at our Assisted Living communities and have detected COVID positive individuals with little to no symptoms and prevented potential outbreaks in our communities. If you have traveled or participated in a large group gathering, please reach out to your supervisor for direction on how you can be antigen tested. We cannot stress the importance of getting tested if you are feeling even the slightest symptoms!
Employees who have been identified as a close contact to someone who may have been exposed to COVID-19 may be able to continue to work. This has happened frequently with children who are contact traced through the school system. If you are concerned about whether you should come to work, please reach out to your supervisor.
We cannot thank each and every one of you enough for your dedication to our communities in the last year and a half. Vermont continues to be the most vaccinated state in the country and our communities have navigated through these challenging times with great success. You have all contributed to this success and while we aren't entirely through it yet, we have adapted and forged ahead with determination and unity! You should all be very proud of your great work during these incredibly difficult times!

---
August 8, 2021
COVID-19 cases have been rising recently due to the highly transmissible delta variant even here in Vermont, where the vaccination rate is the highest in the country. The delta variant, which makes up more than 80% of new infections in the U.S., is more than two times as transmissible than the original strains of the coronavirus, and experts believe it could cause vaccinated people to be contagious.
While the majority of cases are among people who are unvaccinated, there are breakthrough cases occurring among vaccinated people, even in Cathedral Square communities.
Thankfully, the vaccine is doing what it's supposed to do: protect people from severe illness, hospitalization and death.
At this time, the CDC recommends wearing a mask if you have a weakened immune system or if, because of your age or an underlying medical condition, you are at increased risk for severe disease, or if someone you have regular contact with has a weakened immune system, is at increased risk for severe disease, or is unvaccinated.
With this in mind, Cathedral Square wants to be sure to keep our employees and our residents safe by putting some procedures in place effective immediately.
We are asking ALL staff to wear a mask (3-ply medical/surgical) inside our buildings at our independent living communities and anytime they are with or may run into other staff or residents at the main office -- whether or not they have been vaccinated. They may take your mask off if they are alone in their office or workspace with the door closed.

Everyone at long-term care communities will continue to wear masks and follow their site's protocol.

We also are asking all residents and guests to wear face masks inside when they are in community spaces. We have posted signs at all our of communities alerting residents to this guidance. We hope that the delta variant will be short-lived so that we will once again be able to go without masks indoors soon!

Everyone, whether vaccinated or not, should continue to follow these prevention steps: Wash your hands regularly, stay home if you feel sick, and get tested if you have any symptoms or have been exposed to someone with COVID.
Vermont does not have any state travel restrictions. There are federal rules that apply, including testing for international travel and masks being required on public transportation like planes, buses, and trains. Staff who travel should self-monitor for COVID-19 symptoms; isolate and get tested if symptoms develop. Some guidelines to consider when traveling domestically:
For those who are not vaccinated: Get tested 1-3 days before travel, then 3-5 days after travel and self-quarantine for 7 days. Self-quarantine for 10 days if you don't get tested.

For everyone, self-monitor for symptoms, wear a mask, and take all other precautions during travel.
The CDC offers a COVID Data Tracker map that displays the level of community transmission in the U.S. Click MAP to access the data before you travel and plan accordingly to keep yourself protected keep the virus from spreading to others. Cathedral Square highly recommends to get tested before you return to work after traveling.
We cannot stress enough to staff that if they feel sick or have any symptoms, even if they are mild, to stay home and get tested. Common symptoms are any of the following: fever, cough, fatigue, headache, muscle/body aches, sore throat, congestion or runny nose, nausea or vomiting, shortness of breath or difficulty breathing, and diarrhea
---
June 15, 2021
We made it! Governor Scott announced Monday that 80% of Vermonters have been vaccinated -- two weeks ahead of his expected timeline. As a result, all of the COVID restrictions we put in place over a year ago have now ended. In fact, Vermont has one of the highest vaccination rates in the nation. Vermonters, and especially Cathedral Square residents and staff, have done a remarkable job of following all guidelines, restrictions and recommendations.

To our staff, congratulations for managing through what has surely been the most difficult time in our history, and thank you for your understanding, support, and patience throughout this entire time. Together we did a fabulous job fighting off COVID-19!
These are exciting times and reason to celebrate for all of us. Smile to your neighbor, hug your loved ones, and gather once again in our community rooms to participate in the activities.
Please note that for those who are not fully vaccinated, it is recommended that you continue to wear a mask and maintain a 6-foot distance from others -- and all of us should continue to wash our hands regularly, stay home if not feeling well, and think carefully before traveling to areas where vaccination rates are lower.


Note as well that even if you are fully vaccinated, masks are still required for public transportation, in health care and long-term care settings, and in some shops -- so be sure to take a mask with you when you leave home.
Thanks again to our staff and residents for their steadfast perseverance! We will continue to monitor COVID concerns in our area and update everyone if anything changes. For now, get out and enjoy this beautiful weather with friends and family!

---
May 18, 2021

At long last, we are seeing light at the end of a very long tunnel with the COVID-19 pandemic. Just last week, the CDC and Governor Scott lifted the mask mandate for those who are fully vaccinated. In light of this change, we are pleased to announce that effective immediately, residents and staff who are fully vaccinated do not need to wear a mask in or around a Cathedral Square community. (Reminder: "Fully vaccinated" means that 2 weeks have passed since your second Pfizer or Moderna vaccine or your single Johnson & Johnson's vaccine.) In addition, please note that masks are still required in long-term care settings, so the pace of
re-opening looks a little different in our two assisted-living communities.
If you are not fully vaccinated, please continue to wear a mask for your own protection as well as the protection of others who are not fully vaccinated.
Our on-site vaccine clinics had extremely high participation rates, so we feel confident in following this new guidance. It is based on data showing that:
The vaccines are more than 90% effective in the real world.
The vaccines are effective against the COVID-19 variants currently in the U.S.
Those who are vaccinated are far less likely to spread the virus.
We are excited to begin returning to the way things were before COVID upended our lives! Community rooms are being opened, furniture is returning, and in-person programming is gearing up. This is a big change that can be a bit scary, so we are asking everyone to please respect those who choose to wear a mask whether it is required or not. And if anyone would like staff to wear a mask around you, please just ask!
Thanks to our staff and residents you for their incredible efforts during the past year-plus . We look forward to getting back to more normal times and seeing everyone's smiling faces!

---
March 3, 2021
It is hard to believe that we are approaching a full year of living through the COVID-19 pandemic. Thank you for remaining diligent in keeping yourselves and each other safe. As a result, we are starting to see signs that we may soon be able to loosen the restrictions on our lives.
We were very fortunate to qualify for the Federal Pharmacy Program that allowed all of our residents and staff access to the COVID vaccine. To date, all of our communities have hosted at least one vaccine clinic, and 20 of our 25 communities have had their second clinic. The third round of clinics will be complete on March 22. Our Team Leaders, SASH Coordinators and Wellness Nurses have done a tremendous job coordinating these clinics and once again keeping us ahead of the curve to provide our residents with the best support possible. It has been amazing to see how much these clinics are revitalizing all of us, providing a safe way to see each other briefly and create a little hope for an end to the isolation we have all endured!
As a result of the ongoing vaccination of Vermonters, the Governor has announced several changes in state restrictions that impact all of us.
People who are fully vaccinated (it has been 14 days since your final vaccine dose) do not need to quarantine when traveling to or from Vermont. Please keep in mind that the Health Department and the CDC strongly recommend NOT traveling right now.
To view the current restrictions on gatherings you can find them on the Department of Health website (https://apps.health.vermont.gov/COVID/faq/#4761). Below are the most recent exceptions to these restrictions:
If you are fully vaccinated you may gather with one other household at a time, even if the people in the household are not vaccinated. This also means that if everyone in a household is fully vaccinated, then they can gather with another household that is not vaccinated. Since children cannot get vaccinated at this time, a household with children is not considered a fully vaccinated household.

You can do outdoor recreation and fitness activities with people you don't live with, like biking, hiking, walking, running, hunting and fishing, skiing, snowboarding, skating, snow machining and other no-contact outdoor activities. However, you must stay at least 6 feet away from people you don't live with and wear a mask at all times. Do not gather at trailheads, access areas or other outdoor facilities before or after the activity.

It is not considered a social gathering if you have contact with someone for less than 15 minutes, you both are wearing masks, and you stay at least 6 feet apart. You are allowed to come in contact with members of other households in settings that continue to operate – such as schools, workplaces, retail stores, close contact businesses, etc. – as long as all the required health protocols are followed.
As our numbers of fully vaccinated residents and staff increases, those staff who work directly with residents, regardless of vaccination status, will also have the ability to safely meet with and provide those direct services more frequently. Staff should be mindful of consistent mask wearing and distancing during meetings. We still recommend wearing face shields (even if you are fully vaccinated) unless it impedes your work.
On February 26, new guidance was issued for long-term care communities, which includes our assisted-living and memory-care communities, that loosened restrictions on visitation, activities and congregate dining. These communities have been under strict restrictions since last March, and 95% of the residents and 85% of the staff have been vaccinated. Loosening restrictions in these communities will be slow and intentional, starting internally with activities and dining in cohorts and then opening up to visitors from the greater community. New residents will still need to quarantine upon move in, and long-term care staff who are exposed to COVID-19 will still be expected to quarantine.
While we know that residents in our independent-living communities are eager to use the community areas and have in-person programming resume, the state still prohibits organizations from holding multi-household social gatherings whether an individual is vaccinated or not, so we will not be able to resume community gatherings until this changes. We do anticipate that the end of this restriction is coming, and our Emergency Response Team is working diligently to plan for this to happen in a safe way
We do expect to see things slowly opening back up, we want to reiterate what the Department of Health is recommending in order to keep the number of COVID cases in our state low: Even if you are fully vaccinated, you should continue to wear a mask (and double up if one mask does not fit closely to your face), stay at home if you are sick, wash your hands frequently, and keep a 6-foot distance.
Our combined efforts during this very long year have enabled our Cathedral Square communities to have minimal cases of COVID-19 and to respond with compassion and support when they occurred. We know that we can get through the tail end of this cold winter to welcome the warm sunshine, spend more time outdoors, and be able to see each other again.
---
January 15, 2021
As we begin the New Year we have great optimism that as vaccine distribution continues across the country and in Vermont, more and more Americans will get vaccinated so that we may be able to return to a more normal way of life.
We are happy to report that we have scheduled a vaccine clinic for all of our communities over the course of the next two months. Pharmacy personnel will come on site to administer the vaccine, followed by a second vaccine three weeks later. We are encouraging all residents and staff to sign up to receive this two-part vaccine. These clinics will provide the easiest and most convenient way all to receive the vaccine.
SASH coordinators are providing residents with the dates of their community's clinics and the consent forms they need to sign and return in order to receive the vaccine. Once they have the forms in hand, coordinators will schedule time slots for each resident to receive the vaccine, followed by another appointment three weeks later. The vaccine becomes effective 14 days after receiving the second dose, but even so Vermont is asking everyone to continue following all precautions after receiving the second dose. This is because although the vaccine protects the recipient, it is unknown to what extent the vaccine helps prevent the spread of the virus.
While the fact that the vaccine is coming is good news, we cannot let our guard down. In recent days, we have had over 4,000 deaths in a single day in the U.S.! Right now there are over 40 outbreaks and 200 or more situations in Vermont that the Department of Health is monitoring. There is also concern that a new strain of the virus is more contagious and spreads at a much faster rate. In Chittenden County, we are averaging 55 positive cases per day compared to just 10 a day back in November.
In December we had outbreak at our Cathedral Square Assisted Living community, with four staff and three residents testing positive. We were able to contain the outbreak to that initial group, but it highlighted how quickly and easily this virus spreads. This is a very risky time – please continue to take all precautions!
We will continue with our reduced staffing pattern through the end of February or until the cases in our region come down. Staff will continue to have some hours on site and work their remaining hours remotely. When they are on site, staff will keep their office doors closed or blocked in order to maintain a 6' distance both for their safety and that of residents.
We are so thankful for everything our residents and staff have been doing to keep themselves and their Cathedral Square community safe. While it is very difficult, we need to continue to wear our face masks, keep a 6' distance from others, avoid gatherings, wash our hands frequently, and stay home if we are not feeling well. We ARE getting through this, together!
Warmest wishes for a healthy and happy 2021 as we all look forward to the opportunity to connect in person once again.
---
December 15, 2020
As we approach the end of this grueling year, we hope everyone will enjoy their holidays, despite how different they will be this year. We are grateful that a vaccine is on the horizon – some arriving in Vermont yesterday, in fact – and look forward to the day when we will once again be able to gather with groups of families and friends. Unfortunately, however, now is not that time. We must continue adhering to Vermont Department of Health guidelines and plan to celebrate only with people in your own household.
Our amazing staff of caregivers, resident assistants and other front-line staff at Cathedral Square Assisted Living and Memory Care at Allen Brook continue to go above and beyond. This is a hard time for everyone, but particularly them. They surely would appreciate cards, notes of thanks and encouragement, and donations of food. Food donations can be arranged through Jessica Davitt, the assisted living activities coordinator, at davitt@cathedralsquare.org or 859-8849.
Our intrepid IT folks – Evan Selleck, Hannah Pike and Huyen Lam – have been busy preparing the 270 iPads donated to SASH statewide to use for telehealth, virtual programming and connecting residents with others. It's been a massive undertaking that involves individually synching and registering each one by serial number, installing each with SASH-specific links, and applying security tags -- and for the ones destined for non-CSC SASH sites, discovering and resolving the fact that they had been preregistered with Apple as belonging to the NYC Department of Education, which would have prevented those users from logging on! It was a Herculean effort to resolve this issue and get everything set up correctly.
We wish all a happy holiday. Stay safe!
---
November 3, 2020
It is hard to believe we are approaching our 9th month navigating the COVID-19 pandemic. While this has tested us on many levels, it's also affirmed our ability to meet literally every challenge that's come our way. OUR STAFF HAS BEEN AMAZING. Despite the need to devote much of our attention to PPE and other steps to keep everyone safe, our "regular" work has continued unabated. Everyone should take great pride in this.
The CDC and Vermont Dept. of Health are strongly discouraging large Thanksgiving gatherings -- and travel to or from another state to attend them -- this year. Any CSC staff who spend the holiday with out-of-state family and friends (whether in Vermont or elsewhere) will be required to work from home or quarantine for 14 days before returning to work.
For information about best practices, contact tracing, how to assess your risk and more, please refer to the following links:
· What to Do if You Are Identified as a Close Contact of Someone with COVID-19
· What to Do if Someone in Your Home Is Quarantining
· Guidance for Health Care Workers
We have been working with the Vermont Program for Quality in Health Care (VPQC) to obtain Wi Fi and/or cell-enabled tablets (Apple iPads) for SASH participants lacking such devices, thereby providing equitable access to telehealth appointments, virtual prevention and wellness programs, and the ability to stay connected with others. We recently learned that we have been granted 270 iPads for this purpose! We are providing 5 iPads to each of the 54 SASH groups (called "panels") throughout the state, which they will loan out to participants.
---
July 20, 2020
As we approach the end of July, it's hard to believe that we have been in "coronavirus mode" for over four months. We are grateful for everything our staff has done to adapt to these challenging conditions and ensure that our good work continues despite the many disruptions to our previous "normal" modes of operation. It is truly amazing and inspirational how everyone has risen to the occasion to make things work, and work well.
Last week Governor Scott extended Vermont's state of emergency related to the COVID-19 pandemic to August 15. This is not the same as the "stay at home" order but gives the Governor authority to continue opening up the state slowly and methodically.
As we increasingly open up our operations, we remain mindful that we must continue to be on high alert and practice all health guidelines – wearing masks in public places, remaining at least six feet from others, washing hands often, etc. For the latest guidelines, visit the Vermont Department of Health website.
Congressman Peter Welch played an instrumental role in ensuring that the new federal coronavirus/economic-stimulus legislation – the House-passed "Moving America Forward Act," pending approval by the Senate -- includes funds specifically to fund affordable housing as a way to reignite our economy in a post-pandemic world. On July 9, he held a press conference at the construction site of our Juniper House community promoting the legislation. Kim Fitzgerald, our CEO, was one of the speakers. Coverage of the event is available on WCAX and ABC22/Fox44.
---
June 19, 2020
We are thrilled that the Governor's new "State of Emergency" order, extended to July 15, no longer asks all people 65 and older basically to "shelter in place." Instead, the new guidance clarifies that a person's health status is the determining factor – not age alone. We had been advocating strongly for this change and are glad that the state heard us.
Also this week the Governor announced that people in long-term care can start having visitors! This means our memory-care and assisted-living residents can finally reconnect in person with their loved ones. Only two visitors at a time per day are allowed, and all visits must take place outside with masks, physical distancing and other protocols. Memory Care at Allen Brook is already accepting visitors, and Cathedral Square Assisted Living will open its doors to visitors on Monday. Thanks to Maria Rainville and Kathrynn Titus for putting the guidance together so quickly, and to our awesome Maintenance folks for helping us gear up for these visits.
---
May 4, 2020
Starting today, staff currently working remotely will have the option to return to the workplace. (This is an option, not a requirement.) In order to comply with directives from the state and to be as cautious as possible, the following conditions apply to everyone, regardless whether they have been working on site or remotely.
Before returning to the workplace, all staff not working in assisted living must complete a training course offered by the Vermont Occupational Safety & Health Administration (VOSHA). This training is required by the state. Instructions are located here.
Every day, before leaving home, staff must take their temperature. (We are providing thermometers to those who do not have one.) If it shows 100° F or above, they must stay home. Each office will have a sign-in form that staff will need to complete upon entry, answering screening questions and recording their temperature.
Staff must maintain a 6-foot distance between others and wear a face mask at all times unless they are alone and in their own office. If they share an office, they must make a schedule with their co-workers to ensure that only one person per office is present at any given time.
SASH Coordinators will leave their office door closed or place a chair blocking the office entrance to ensure that the 6¢ physical distancing is maintained.
Staff will continue being diligent about hand-washing (for 20 seconds) and/or using sanitizer whenever they come in contact with common touch points (door handles, copier buttons, etc.).
Staff will use the retractable stanchions (posts with retractable belts) that have been placed outside the kitchen and the copier room at the main office. When entering either of these spaces, they will pull the belt across to prevent others from entering.
Staff will use sanitizer before entering the kitchen or the copier room (new sanitizer dispensers have been installed) and sanitize all surfaces they touch before leaving. They are to bring their own stapler, pen, etc., to minimize the items they touch and need to sanitize.
Working remotely remains an option for those who can do so. We will continue to work with staff who are caring for their child/ren so that they can work remotely as much as feasible.
With these measures in place, we feel confident that will continue to slow or prevent the spread of the coronavirus. To the best of our knowledge, we currently have no active COVID-19 cases at any of our properties; if that changes, we may need to pull back on this protocol at one or more of our locations.
---
May 1, 2020
We are happy to report that all four of our residents known to have contracted COVID-19 have recovered! While we do not know of any other cases in our communities, that doesn't necessarily mean there aren't any – no one is required to tell us. The best practice remains to always assume that the virus is present and that you yourself may be a carrier.
We have received calls and notes from numerous residents thanking us for keeping them safe and for providing them with soap, face masks, notes of encouragement and more. As one resident told me, "You guys are amazing. I can't believe how you take such good care of us. I just can't believe it."
We continue to benefit from a tremendous outpouring of kindness from our community. Donations of face masks have come in from dozens of people and organizations, including several of our own staff. We've received face shields made by a local entrepreneur, and another person working in a generator space off Pine Street has committed to getting us 40 of his medical-quality face shields in the coming days. (The shields are used by AL and memory-care staff.) The Flynn has loaned us 14 retractable-belt barriers (called stanchions) that we're using to rope specific areas to help maintain the 6-foot distancing. Others are donating medical thermometers, fresh and frozen meals, cards for residents and more.
Two sweet boys from Michigan who are budding musicians have reached out to play music for our residents. Joshua and John Tewolde are 12 and 10 years old respectively. They prepared a 14-minute video in which they play violin, cello and piano as part of a school project. You can see it (and share it!) here: https://youtu.be/GaOMRs1s238
By far the most creative donation we've received to date came through Kristie Barber, our nurse at MCAB. She reached out to artist DJ Barry after learning that he was painting paper plates with the face of "Wilson" – the basketball and sole companion of Tom Hanks in the movie Castaway -- and asked whether they might have some for MCAB residents. He came through with one for each resident (see photo). You can learn more about the artist here.
---
April 10, 2020
Recognizing the incredible services our front-line staff are providing and the difficult circumstances under which they are working, we have instituted a "hero pay" initiative that boosts their hourly pay rate during this time. The boost is retroactive to March 29 and will remain in effect through the lifting of the Governor's "stay at home" order, which has just been extended through May 15. This is being funded by the federal "payroll protection plan" Congress passed to help businesses during this time. We are so glad to be able to show our appreciation for our essential staff!
We have received some medical facemasks, gloves and other personal protective equipment (PPE) from the state and have distributed it to staff at Cathedral Square Assisted Living (CSAL) and Memory Care at Allen Brook (MCAB). We have requests in for more and are hopeful that it will arrive as we need it.
In response to recent guidance that everyone should wear a face mask outside of their home, we are working to secure fabric masks for all Cathedral Square staff. (Toward that end, Ashley Wilkinson, our new SASH program associate stationed at the main office, is busy sewing 100 masks to contribute – thank you, Ashley!) In the meantime, here's a quick video from the U.S. Surgeon General on how to make a simple DIY cloth mask, and here is information from the CDC on how wear and handle cloth masks.
We have received several generous in-kind donations this week, including 500 bars of soap from Twincraft Skincare, bar and liquid soap from The Body Shop, and 4 gallons of hand sanitizer from Caledonia Spirits (Barr Hill Gin). They are all being put to great use! Some of the items are destined for "wellness gift bags" for residents that SASH staff plan to create.
Senator Sanders' office has compiled a nice summary of the federal emergency relief act (called the Coronavirus Aid, Relief & Economic Security Act, or CARES) and how to receive or apply for assistance. You can read it here.
To stay current with things at the state level, visit this webpage set up by the Vermont Department of Health. Scroll down the page and select the "See the Latest Update" link (in a blue box) to read daily updates.
As we've all been adjusting to new routines and in some cases new duties, we are doing an amazing amount of work – and an amazing job! The protocols we have in place have garnered a lot of praise from the State of Vermont and our nonprofit housing peers, and the information on our website was suggested as a model for other organizations by the Vermont Department of Health.
---
April 1, 2020
Our "essential" staff – our caregivers, custodians and maintenance techs -- are doing an amazing job under very trying conditions. Most non-essential staff are working from home or coming to work on a rotating and/or very limited basis. Our front desk is staffed weekdays till mid-afternoon. Other staff are rotating on a daily basis so that one person is in the office every work day checking and responding to mail, and virtually all interactions with residents and applicants are being conducted by phone, email or mail.
We have notified staff of the new federal law providing additional FMLA leave, emergency sick leave, and other benefits and options for staff affected unable to work or facing a reduction in hours due to the pandemic.
Leadership staff are participating in a number of working groups organized by the Governor's office, the state Department of Health, the Burlington mayor's office, housing organizations and others. Through these activities, we are helping to formulate policies and obtaining the information and equipment we need to keep everyone safe while continuing our business operations.
We have secured personal protective equipment (gowns, masks, gloves, booties) for staff in our two assisted-living communities and have put together a kit for each independent housing community. Delivery of those kits to the site office will be in place within the next week.
We hope to keep move-ins and move-outs at a minimum during this time; however, in most cases move-ins will be permitted as long as the person is moving from a location within Vermont. (This is to comply with the Governor's order to prevent people from other states coming to Vermont at this time.)
We are keeping up to date on guidelines from the CDC and the Vermont Department of Health to ensure we are taking the correct steps to "flatten the curve" of this virus.
---
March 25, 2020
We have developed the following staff protocols for supporting residents during this time.
IF: A resident reports they are not feeling well, has a fever and/or has concerns about exposure….
THEN: Instruct them to call their primary care physician (PCP), and follow up with them as soon as possible.

IF: A resident has been told to self-quarantine due to risk of exposure or symptoms…
THEN: Continue to support them by phone, and connect with their PCP as needed. Inform SASH Team Leaders and Pilar Paulsen, Cathedral Square's Emergency Response Planning (ERP) committee chair.

IF: A resident has tested positive for COVID-19…
THEN: Post information that there is confirmed case of COVID-19 in community (signage will be provided).
In all cases:
Maintain resident confidentiality; do not identify in any way.
Notify family members/sponsors.
Use PPE if you must go into the COVID-positive resident's apartment.
Continue to support the resident by phone. Connect with their PCP as necessary.
Inform SASH Team Leaders and the Emergency Response Planning Committee Chair.
---
March 17, 2020
Here are the steps we are taking to prevent an outbreak in our communities:
Health and well-being are at the heart of everything we do at Cathedral Square. We are complying diligently with guidelines from the Centers for Disease Control & Prevention (CDC), the Vermont Department of Health, and state and local government officials in an effort to mitigate and contain the coronavirus. We also are involved in numerous groups and task forces monitoring the coronavirus at the state and local levels and developing our community's response and resources.
In anticipation of the arrival of the coronavirus in Vermont, we started actively preparing our continuity and contingency plans in February. We are prepared to keep our operations running over the long haul. We have an incredible team devoted to our residents' wellness and safety! Here are some of the steps we have taken at our 25 housing communities:
We have distributed information about the coronavirus and self-protection measures to residents and staff, installed additional hand sanitizers throughout our buildings, and provided on-site education from SASH wellness nurses.
As of March 26, in compliance with Governor Scott's "Stay at Home" and related orders, we are limiting visitors only to those who are providing essential services. These services include food and grocery deliveries (including home?delivered meals), meal?preparation services, personal care and support for activities of daily living, medication management, deliveries of essential supplies for health and sanitation, nursing services and medically required therapy treatments, and clinical/behavioral supports essential for personal safety.
We have advised all residents to stay at home, and if they start feeling ill, to self-quarantine. Anyone who tests positive for COVID-19 and returns to their home to recover must self-isolate. (Learn the difference.) The on-site SASH coordinator will provide support and connect with the resident's physician and family as needed.
We are prohibiting visitors in our two assisted-living communities (Cathedral Square Assisted Living in Burlington and Memory Care at Allen Brook in Williston) except for those visiting residents who are receiving end-of-life care. We are keeping family members and friends regularly updated by phone and weekly memos, and we are connecting residents with family members via Zoom, Skype and other technologies.
We are asking visiting nurses, home-health workers and related professionals to shower and change into clean clothing upon arrival.
We are asking residents not to gather in common areas and have closed off community spaces to discourage/prevent gatherings. We understand the importance of having access to exercise rooms, resident computers and other services, but we are strongly advising that residents limit their time and maintain a 6-foot distance from others in compliance with social-distancing guidelines.
We have cancelled all group programming and community meals. In an effort to address loneliness and isolation, we have several initiatives underway to maintain connections with residents — and to connect residents with each other — through phone calls, social media, mail and other means. For example, we have put out the call for handmade cards from schoolchildren for our residents, one of our SASH coordinators is leading "Facebook Live" mindfulness sessions, and a regular volunteer is leading chair yoga sessions via Zoom. Residents know to call the office to hear a recording with a daily update, and SASH coordinators have scheduled weekly conference calls with their residents.
Our Maintenance team is completing essential work orders only; non-emergency work-order requests are being put on hold. Residents have been advised to continue calling in requests so they can be prioritized and tracked accordingly. Maintenance staff are using their additional time to assist our custodial and site staff in repeatedly cleaning and sanitizing common spaces and surfaces. We are following CDC cleaning and sanitation guidelines.
Our on-call residents are helping to clean and sanitize common spaces and checking on their neighbors to make sure they are okay.
Most staff remain working remotely; however, starting May 4 we are gradually returning to the workplace. We are requiring all staff to take the Vermont Occupational Safety & Health Administration training and submit their certificate of completion beforehand. In addition, all staff must take their temperature before leaving their home (and stay home if it is 100 F or higher), then log it on a sign-in/questionnaire sheet at the entry every day.
On-site staff are wearing face masks and keeping a distance of 6 feet from others. SASH staff are phoning residents as the first option, then determining whether an in-person, one-on-one visit is appropriate. They also are maintaining a 6-foot distance from anyone with whom they meet.
We are educating residents (and ourselves!) about the federal emergency relief package (the Coronavirus Aid, Relief & Economic Security Act, or CARES) and how to obtain or apply for assistance. Here is a good summary of the CARES Act compiled by the office of Vermont Senator Bernie Sanders.
We have asked any resident who tests positive for the virus, or who comes into contact with someone who has tested positive, to first make sure that they or their doctor informs the Vermont Department of Health, then to notify their SASH coordinator so that we may properly disinfect any impacted area(s) and provide support.
This Too Shall Pass
The coronavirus situation is constantly evolving. We are all learning as we go and adjusting our behaviors as new information becomes available. We appreciate everyone's understanding and patience during this trying time. Yes, it's a cliché, but it's true: We are all in this together.
We are tremendously grateful for the support we have received from friends and neighbors during this unprecedented time. Family members and strangers are reaching out to offer help. A person from an apartment building adjacent to one of our buildings is organizing her neighbors to shop or run errands for our residents. We have received soap from Twincraft Skincare and the Body Shop to distribute to residents, hand sanitizer from Caledonia Spirits, goggles from Giro Sport Design, and numerous other in-kind donations. At all levels, our amazing staff is picking up extra shifts and taking on added responsibilities, not knowing whether they eventually will be remunerated for their additional work. As motivational speaker Father Gregory Boyle says, "There is no us and them, only us." THANK YOU ONE AND ALL.
Resources for Residents, Staff & Family Members