Job Openings at Cathedral Square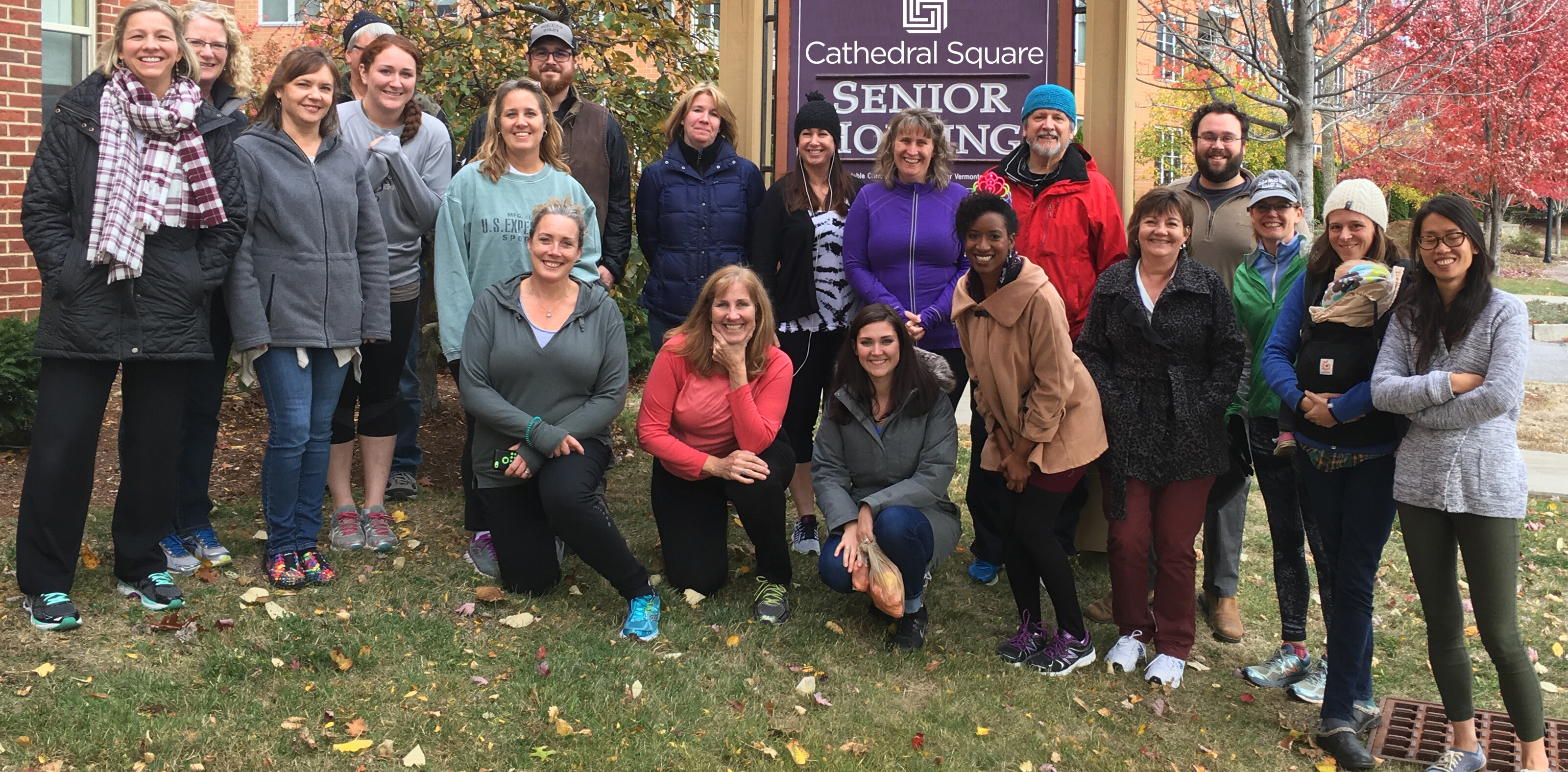 SASH Health Systems Educator
Key education and training position, focused on Vermont Department of Health deliverables addressing heart disease and stroke prevention. Part of the statewide administration team for SASH within Cathedral Square. Leads operationalizing best practices and quality assurance statewide through SASH staff education and protocol oversight. Particular focus in providing resources and education for SASH staff to improve diabetes and hypertension control and facilitate self-management among SASH participants. This position is grant dependent.
Qualifications
Must possess a Bachelor's degree in Nursing, Public Health, Social Work, health care or related field. A nursing license is highly desired (RN, BSN). Experience utilizing and teaching PDSA cycles, health behavior change models, and self-management skills related to chronic health conditions desired. Must have at least a three year track record as a self-starter who enjoys taking on a challenge. Experience in public policy or program implementation involving low income, the elderly, or persons with disabilities is a plus. Must be a team player who enjoys multi-tasking. Must possess the ability to problem solve. Must have excellent written and verbal communication skills and strong computer skills. Knowledge of long term care delivery, affordable housing, and health care reform a plus. Knowledge of Excel, Access, and PowerPoint a plus. Must possess a valid driver's license.
Hours and Location: Part-time (32 -40 hours), Remote
Download the full job description.
Resident Assistants
Resident Assistants provide compassionate care and support to Cathedral Square residents who are physically and/or cognitively impaired. They work as part of a close-knit, casual and professional team at Cathedral Square Assisted Living in downtown Burlington and/or at Memory Care at Allen Brook, our specialized memory-care community in Williston. They help residents maintain a high quality of life by providing an open ear and helping them with personal care and daily activities, including dressing, eating, hygiene and medications. Experience working with elders is preferred but not required, as we provide paid training!
NOTE: Special precautions are in place at this time to ensure the safety and health of our staff and residents, including additional sanitation, restricted access and social distancing.
Qualifications
Compassion, positive attitude, strong work ethic, reliability, and ability to "go with the flow" as needed
Excellent interpersonal skills and ability to relate to a variety of people
Able to think, act and intervene appropriately in both routine and emergency situations
Able to lift, carry, stand, bend, squat, crawl, reach and kneel using good body mechanics for sustained periods of time (think of the steps you'll get in!)
Able to communicate effectively in writing for the purpose of documentation and keeping records
LNA certification and prior experience as a nursing assistant or aide to people who are elderly or disabled is a plus.
Hours and Location: Full time or Part time, Days, Evenings and Overnights at Cathedral Square Senior Living in Burlington; Part time and Per Diem at Memory Care at Allen Brook in Williston

Download the full job description.


SASH Coordinator
Summary: The Support and Services at Home (SASH) Coordinator builds trusting relationships with participants in SASH in order to develop a thorough knowledge of each SASH participant's strengths and challenges as they pertain to living safely in their home. The SASH Coordinator (SC) convenes the on-site SASH team on a regular basis to coordinate care and services to meet the needs of participants; identifies and proactively responds to the underlying causes of any resident or community problems/issues, drawing on the support of their supervisor as needed; organizes and facilitates resident meetings on a monthly basis; and serves as the key on-site contact for issues relating to housekeeping, noise, site disturbances, etc. The SASH Coordinator also issues warnings and notices of lease violations residents and works with their supervisor to enforce stipulations outlined in the lease and in the resident handbook.
Qualifications
Must possess a Bachelor's Degree in Social Work or equivalent combination of background and experience. Previous experience coordinating services specifically for the senior or adult with disability client population is preferred. Knowledge of area resources and programs available to seniors and adults with disabilities, including transportation, health services, and recreational activities is essential. Demonstrated excellence in verbal and written communication is required. Must have knowledge of and an appreciation for the heritage, values, and wisdom of each resident and a commitment to the philosophy of a person's choice to age at home. Must possess a valid driver's license. A working knowledge of MSWord and Publisher is highly desirable.
Hours and Location:

Full time (36 hrs), McAuley Square & Cathedral Square Senior Living in Burlington
Full time (36 hrs), Holy Cross in Colchester
Full time (36 hours), Juniper House in Burlington
Download the full job description.
Supervisor of Custodial Services
The Supervisor of Custodial Services plans, organizes, and coordinates activities related to the cleaning, care and maintenance of floors, restrooms, offices and common area for all Cathedral Square properties. This position also supervises Homemaker Service Providers. The Supervisor works collaboratively with the Facilities Manager and Supervisor of Maintenance regarding site needs to maintain quality housing for residents.
Qualifications

Must possess a high school diploma and at least two to three years of progressively responsible custodial work experience. Must possess a valid Vermont driver's license, dependable vehicle, and clean driving record. Must be able to travel to property sites. Prior supervisory experience and computer skills in outlook and excel preferred. This position requires considerable walking, lifting, bending stretching and squatting. The supervisor will work primarily in the field with some office work. Responds to emergency situations as needed. May fill in for direct reports as needed. Exposure to cleaning chemicals, solvents, and related fumes. May require some weekend or off-shift hours.
Hours and Location: Full time, various locations
Download the full job description.
Cook

The cook prepares and serves meals in a friendly, professional manner to residents at Cathedral Square Assisted Living (Burlington) and/or Memory Care at Allen Brook (Williston). Responsibilities involve all facets of kitchen operations, including ordering, preparing, serving, cleaning, and receiving, inspecting and rejecting orders, and monitoring all kitchen equipment. The cook is on call to cover for the Manager of Food Service as needed.
Qualifications
High school diploma or equivalent
Ability to perform basic math and to read and follow instructions, recipes and resident information
Flexibility in working schedule and weekend/ holiday availability
Good communication skills and ability to relate to a wide variety of people
Prior cooking experience preferred
Prior experience working with seniors or individuals with disabilities preferred
Hours & Location: Per diem and Part-Time available in Burlington.
Download the full job description.
Maintenance Technician
Responsible for a full range of property maintenance duties including painting, heating and ventilation troubleshooting and repair, responding to work orders, minor plumbing and electrical work, snow shoveling, and landscaping. Daily assignments will vary due to the site and availability of other maintenance staff. He/she will also be on call for maintenance emergencies.
Qualifications
Must possess a high school diploma or equivalent and at least one year of experience in property maintenance. Must have a valid Vermont driver's license and reliable transportation. Ability to perform physical activities associated with maintenance work is required.
Hours and Location: Full-time, various locations.
Download the full job description.
Licensed Practical Nurse
Provides care and services to residents who are functionally, physically or socially impaired within the scope of license at our Assisted Living Residence, under the direction of the LPN Supervisor. Provides nurse duties to include medication management and administration, assessment, and treatment. The LPN will also be required to provide on-call clinical consultation to the staff as needed. They supports a philosophy of aging in place consistent with the mission of assisted living and in compliance with the State of Vermont Level III Assisted Living/Residential Care Home regulations.
Qualifications
Must possess a Vermont LPN license. Experience in long term care setting preferred. Able to think, act and intervene appropriately in both routine and emergency situations. Must possess a high degree of interpersonal communication skills to relate with a wide variety of individuals. They must have demonstrated leadership skills and the ability to exercise sound judgment. Must possess strong organizational and time management skills and excellent verbal and written communication skills. Prior supervisory experience preferred.
Hours and Locations: Part-time ( 20-30 hours/week), Cathedral Square Senior Living in Burlington. Every other weekend and on-call rotation.
Download the full job description.