The History of Cathedral Square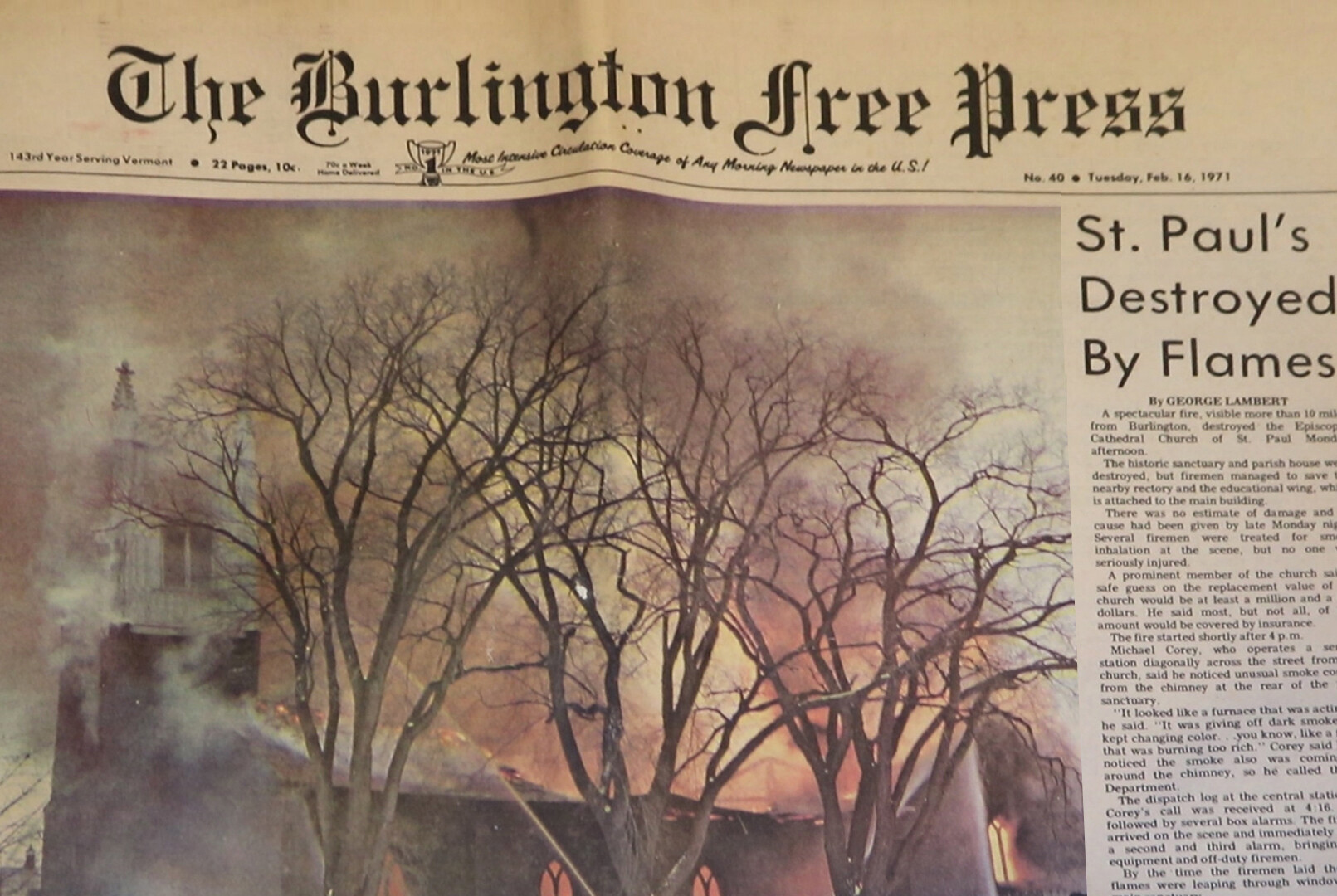 Cathedral Square Timeline, 1997-2017
How a Fire & a Land Swap Brought Affordable Senior Housing to Vermont
by Jessica Clarke
In February 1971, the 140-year-old Episcopal Cathedral Church of St. Paul, a historic Burlington landmark, was destroyed by a catastrophic fire. Located at the time on the parcel of land now occupied by the soon-to-be-demolished Burlington Town Center, the church was rebuilt on an expansive tract of land at the corner of Battery and Pearl streets, overlooking Lake Champlain and the Adirondacks — land the city traded with the church in order to realize the city's "urban renewal" vision and build the downtown mall.
Recognizing that the new parcel was much larger than the church needed for itself — and mindful of the church's strong social mission — parish leaders decided to use the excess land to help address the desperate need in Burlington for affordable senior housing. They established a separate nonprofit organization, secured funding and went on to build Vermont's first affordable multifamily residence for older adults — and Burlington's first high-rise: the nine-story, solar-panel-topped building just east of St. Paul's Cathedral, with 108 apartments for older adults.
In 2017 that organization, Cathedral Square, turned 40. Now an independent nonprofit, it nonetheless retains its original "Cathedral Square" moniker — and it still maintains a close relationship with St. Paul's. But the organization and its mission have expanded significantly in the years since its founding in 1977 and the opening of its flagship building two years later.
Early on, the Meals on Wheels program was established at the organization's CSC's original residence. HomeShare Vermont, which matches older adults seeking housemates with people needing a place to live, began as a program of Cathedral Square. So too did Burlington's Joint Urban Ministry Project (JUMP), a coalition of religious groups that helps families and individuals who have emergency needs, and the former Samaritan Connection, which provided a variety of services to older adults.
Thanks in whole or in part to Cathedral Square, as of January 2021 Vermont has more than 1,800 units of affordable housing for older adults and people with disabilities and other diverse needs. Cathedral Square brought the first licensed assisted-living residence to Vermont in 2003 and the state's first residential memory-care community for very low-income Vermonters on Medicaid in 2017. The organization now operates 26 residential communities — 10 in Burlington, three in Essex and three in South Burlington, and one each in Colchester, Hinesburg, Jericho, Milton, Richmond, St. Albans and Williston.
With a staff of approaching 180 dedicated employees, Cathedral Square maintains these properties, develops new ones and provides a variety of programs and services to residents, including SASH® (Support and Services at Home), the comprehensive, nationally recognized program of care coordination designed by Cathedral Square and available statewide since 2011.
The Evolution of Cathedral Square
Over the years, Cathedral Square has evolved into a pioneering organization with a nationally acclaimed program that promotes safe aging at home and an increasing focus on special-needs housing.
"When people think of Cathedral Square, most of them think of elderly housing, period," says Kim Fitzgerald, the organization's CEO. "But we have created a handful of communities that are quite unique in terms of the whom they serve."
Take South Burlington Community Housing, for example. Located on Anderson Parkway, it's the only residence in Vermont ? and one of just a handful nationwide ? where adults with physical disabilities can live independently in their own apartments, come and go as they please, and be assured of 24/7 nursing assistance as needed. A partnership with UVM Health Network Home Health & Hospice makes this possible.
Another Cathedral Square residence, Monroe Place near downtown Burlington, provides 15 apartments for adults living with mental health challenges and is run in collaboration with the Howard Center. Elsewhere in Burlington, Cathedral Square has a community for young parents with dependents who are pursuing post-secondary education, and a community for adults in recovery (run in collaboration with ANEW Place).
With a growing need in Vermont for affordable housing for older adults — the waiting list for Cathedral Square housing alone hovers around 1,300 names — the organization constantly strives to develop new housing. Soon after Allard Square opened in 2018 in South Burlington with 39 apartments, construction began on Juniper House, part of the Cambrian Rise development underway at the former site of Burlington College. Juniper House added another 70 apartments for older adults when it opened in March 2021. Also on the drawing boards is the first affordable senior housing community in the Champlain Islands, slated to start construction in fall 2021.
While CSC's housing options vary widely, one program comes standard at all Cathedral Square properties: SASH® (Support and Services at Home), the award-winning model of health-care coordination CSC designed to help older adults "age in place," in health and security. The program has been shown to improve participants' health while also saving Medicare and Medicaid dollars in a number of areas. The program is being replicated in several states and recently served as the model for a U.S. Department of Housing & Urban Development nationwide pilot program.
The organization "has dogged, determined leadership," says Gus Seelig, executive director of the Vermont Housing & Conservation Board, which has awarded millions to Cathedral Square for its housing communities. "They have been committed to excellence and innovation. That success has had an impact across Vermont and is rippling across our nation."