Remembering Sandy Wooster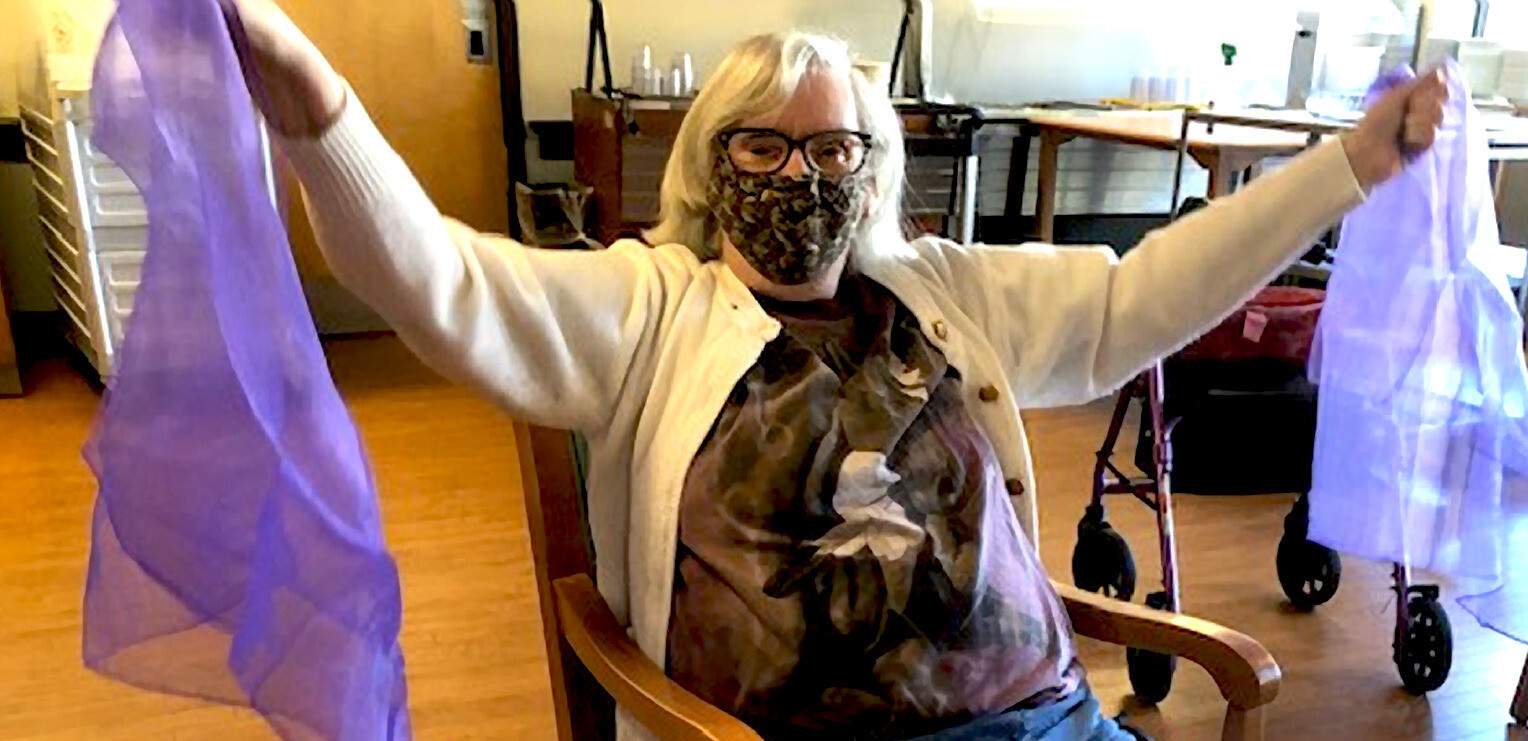 Sandra Lee (Bailey) Wooster was a beloved resident at Cathedral Square Assisted Living, where she lived after moving from Ruggles House in summer 2019.
"She was a really caring and generous person who loved the staff, and the staff loved her," said Director of Operations Kathrynn Titus. "All of our office doors were covered with pictures Sandy drew for us."
Sandy also participated in everything that went on in the community, Titus added, recalling how she and her daughter Carol sang "You Are My Sunshine" in the community talent show to the delight of residents and staff.
In December 2020, Sandy contracted COVID-19. She survived the initial infection and returned home from the hospital, only to suffer the long-haul effects of COVID-19 that led to her death on April 7, 2021.
"For my family and many others, our lives shall never be the same," said Carol, one of her two daughters. "COVID is not a hoax."
Born with disabilities, Sandy needed extra assistance, yet she was studious. Her impish smile lit up the entire room whenever she saw someone she knew.
Sandy loved to volunteer and raise money for various charities. She enjoyed church, reading the Bible and the Daily Bread, vanilla milkshakes, and anything sweet (Little Debbie snack cakes were her favorite dessert). Orchid was her favorite color. She liked robins, dancing, singing silly songs and hymns, the "bumpie cars," Ferris wheels, hugs, bedtime stories, teddy bears, the choo-choo train, alumni parades, adult day, coloring, word searches, camp, Bernie Sanders, romance novels, TV and saying "I love you."
When Irish eyes were smiling, her once jet-black wavy hair made us laugh. The now-silver locks never would stay down. Singing together the Barney song, "I love you, you love me," made her smile right up to the end.
"My fondest memories of Mom were when we all sang in front of the church 'This Little Light of Mine,'" said her daughter Tammy. "My husband, Wayne, and I miss Mom writing us, coloring pictures for us and most of all talking with her on the phone," she added. "We love Ma forever and a day."
"Right before Sandy became an angel, the song 'Rockin' Robin" came on the radio. Soon after, I heard birds outside her window," said Carol. "Fly high, Mommy, over the rainbow. We love you."
Before the pandemic shutdown, Carol would visit Sandy regularly. They would sit in the garden outside Cathedral Square Assisted Living watching birds and chatting. Fittingly, Sandy's family and friends raised funds for a bench and a birdbath for others to enjoy in Sandy's memory. Both are gracing the courtyard and garden.



From left: Sandy Wooster at Cathedral Square Assisted Living in 2019, the birdbath and bench donated in Sandy's memory, and Sandy and her daughter Carol "Sunshine" Wooster at the fair, where she loved to ride the Ferris wheel

The family's warmth, generosity and love for Sandy was evident in the service they held. "As part of who Mom was, she will be going to heaven in her pajamas with a teddy bear and a Bible in her hands," Sandy's obituary read. "If you wish to wear pajamas to either service, please do so, as it is encouraged. Any teddy bears that are received will be later donated to the children in various organizations throughout the community."
Added Titus, "Carol was a real cheerleader for her mother and for our assisted-living staff during the height of the pandemic. She put signs all around the building in support of the staff, and she wrote the most beautiful letter to us after her mom came down with COVID. That letter was so impactful for all of us, and we continue to appreciate her words of compassion and understanding during such an awful time."
As the staff in Assisted Living wrote, "We will remember Sandy for her larger-than-life smile and her loving attitude. She had the biggest heart and was always welcoming to everyone. We look out at our garden to see the birdbath and the bench, and a smile immediately comes to our faces. We are grateful to Carol "Sunshine" for documenting the year in photos for her book 'Finding the Rainbow within the Pandemic.' The love and support from the Wooster family was nothing short of incredible during this difficult time. The memories we shared with Sandy will forever be in our hearts."